Planning a visit to Armenia? If so, then there are plenty of things to see and do in this ancient country. Its rich culture and exceptional natural wealth will certainly leave you impressed.
Is Armenia safe for traveling though? It's a developing country, after all, and local authorities still have a lot to do before it achieves the safety level of western countries.
Well, read on to find out.
Is Armenia Safe for Visitors?
The short answer is yes, Armenia was safe for visitors as of late September 2019. In spite of not being a particularly developed country, Armenia is fairly safe.
With that being said, there are a few things to keep in mind in Armenia.
Before moving forward, we advise that you check with your local ministry of foreign affairs to see what input they have on the question. Namely, check out:
You may want to check the cited three resources though since they have in-depth information that will be useful no matter where you are from.
Also, we highly suggest that you read this crime & safety report by the U.S. Overseas Security Advisory Council (OSAC). It provides detailed information on crime and safety in Armenia as of 2019, and it's the report that the U.S. DoD seems to take its information from.
I'll be using info from these sources as well, but I'll include only the points related to safety. There are many other things to learn in the travel advisories, so make sure to read them carefully if planning a visit to Armenia.
Crime in Armenia
Crime: The travel advisories say that the crime rate is relatively low in Armenia, and I will agree with that. Serious or violent crimes here are very rare, and the latest case that I can think of was maybe in 2015-16.
With that being said, smaller offenses like pickpocketing, mugging, and theft do occur in Armenia relatively often. I personally am not aware of mugging cases, but pickpocketing has been a little bit more frequent here lately. It's happening mostly in crowded public transport, so if you stay away from it and travel by taxi or a rented car, you should be okay.
According to the U.S. DoD travel advisory, a criminal group is operating in Armenia's capital Yerevan, targeting foreigners and burglarizing their rented apartments while they are away. Due to this, you should not leave anything valuable in your hotel room or rented apartment when going out.
Aside from that, the U.S. travel advisory mentions reports of local taxi drivers sexually harassing single female travelers. U.S. citizen victims of sexual assault are advised to first contact the U.S. Embassy in Yerevan. Travelers from other countries should also contact their local embassies in an emergency.
Armenia also uses the number 911 to handle all kinds of emergency situations. According to the DoD travel advisory, operators do speak English at this phone number.
Local police: A few things should be mentioned about local police – if you are coming from the U.S., the UK, Canada, or another developed country, don't expect the Armenian police to be as effective as at home. As the U.S. travel advisory says, the police "routinely show up" when called, but they generally don't speak English.
Public demonstrations: As of late September 2019, public demonstrations in Armenia frequently happened due to tensions between the government and opposition. The demonstrations are mostly peaceful in nature, but you should stay away from any large political gatherings.
Bribes: Some customs officials seek bribes to perform basic duties. You may be at an increased risk as a foreign citizen.
Terrorism in Armenia
The U.S. DoD claims that there is moderate terrorism risk in Armenia, albeit there's no recent history of terrorism in the country. With that said, as the OSAC report says, terrorist attacks cannot be ruled out, so you should always be vigilant.
Minorities
Local customs: Armenia is a Christian country with traditions close to western ones. As the UK government website says, women here usually dress in western-style clothing (they indeed do). However, people are more open-minded in the capital than outside, so you probably shouldn't dress inappropriately.
With that being said, promiscuity is disapproved by most people in the country, so you should be reserved in behavior or appearance no matter where you are in Armenia.
LGBT: People here are more or less open towards representatives of other religions, but most Armenians strongly disapprove of LGBT communities. Verbal and physical harassment happens occasionally. Homosexuality was decriminalized in 2003, but there are no hate crime laws or other mechanisms to aid in the prosecution of crimes against LGBT groups. Thus, you should again be discreet in Armenia.
Health and Food Safety
Medical facilities: Health and food safety are decent in Armenia, but in the capital Yerevan, things are much, much better than in rural areas.
Outside province capitals and Yerevan, "medical facilities are limited", according to the U.S. DoD travel advisory. The UK government website recommends avoiding treatment in local medical facilities for anything other than minor ailments.
The U.S. travel advisory also claims to have received reports of brucellosis cases caused by unpasteurized dairy products, so keep that in mind.
Healthcare isn't too expensive here – especially compared to the U.S. – but make sure to have adequate health insurance and funds to cover medical treatment abroad.
Medications: Most prescription medications are available at pharmacies in Armenia, but their quality may vary. If you intend to bring medications with you, keep in mind that Armenian customs officials have sometimes confiscated medications from visitors upon arrival in the country.
Vaccinations: In terms of diseases and vaccinations, it appears that Armenia is a safe country. You should be up-to-date with all vaccinations, but you are unlikely to catch a serious disease here. Epidemics do very rarely occur here, but your country's embassy in Armenia or the foreign ministry should warn travelers about it beforehand.
Food safety: When it comes to food and water safety, Armenia is relatively safe as well. In Yerevan, tap water is drinkable, and the country is abundant with fresh water. In rural areas though, access to drinkable water may be limited. The same applies to some areas in the capital. To stay safe, you may only use bottled water from the store.
I'd suggest that you avoid buying food and drinks from street kiosks. I have never had any problems with them, but supermarkets like SAS or Yerevan City are much more reliable in regard to food. At restaurants and cafes, you should be safe as well.
Road Safety
Road conditions: The road conditions in Armenia aren't great, and while things are relatively okay in Yerevan, things can get pretty bad outside the capital, even on primary roads. Missing pavement and potholes are common here, so you should be careful if driving by a rented car. Avoid driving at night, particularly due to "limited emergency response resources", as said in the U.S. travel advisory.
In winter, roads are generally clean, but you should nonetheless exercise caution while driving.
Maps of local roads may be inaccurate, especially outside Yerevan, though I think Google Maps is pretty accurate.
Pedestrians: Pedestrians sometimes cross the street away from designated crossings, so you should exercise caution at all times.
Drivers: As recommended by the U.S. travel advisory, you should yield to aggressive drivers, and I could not agree more to that. Watch out for drunk drivers. You may become a victim of aggression, and the police may not be able to help you with anything.
Bribes: The U.S. travel advisory also mentions that local "police are known to seek bribes during traffic stops", as well as "harass drivers" with U.S. or international driver's licenses. If this happens to you, contact your embassy immediately.
Taxis: You should avoid traveling by local unregistered taxis without meters – they will have an easy time charging you tenfold of what they'd charge a local. There are plenty of such taxis at Zvartnots Airport and in the city. To stay on the safe side, you may use local taxi apps like gg, Utaxi, or Yandex Taxi. These are available on Google Play and the App Store.
Public transportation: We suggest that you avoid using public transportation. Though it costs around $0.20 per person, minibuses are poorly maintained, are almost always overcrowded (which is perfect for pickpocketing), lack seatbelts, and are occasionally involved in accidents.
Dual Citizenship
Armenian legislation allows people to hold dual citizenship. If you are an Armenian naturalized in the United States or any other country, the Armenian government may still consider you an Armenian citizen.
The problem with this is that Armenian males aged 18-27 are subject to 24-month compulsory military service. Avoiding military service may be punished with substantial fines or jail time. If you are aged 18-27, make sure to consult your local Armenian embassy before traveling to Armenia.
Aside from that, local law requires that Armenian citizens enter and depart Armenia on Armenian passports.
The Nagorno-Karabakh Conflict
Even though a ceasefire was signed between Armenia and Azerbaijan in 1994, the Nagorno-Karabakh conflict still disturbs the region.
Due to this, you should avoid traveling to the Artsakh Republic (previously the Nagorno-Karabakh Republic). Foreign governments are typically unable to provide emergency services to tourists in Artsakh.
Traveling to Artsakh may also make it difficult for you to travel to Azerbaijan in the future. Cases are known of Artsakh visitors becoming persona non grata in Azerbaijan. I am not sure about non-officials, but if you are a foreign official, you will most likely be declared a persona non grata by Azerbaijan upon entry in Artsakh.
If you do visit Artsakh, avoid travel near the line of contact between Armenian and Azerbaijani positions. Intermittent gunfire very often happens here, and there are plenty of land mines near the conflict zones.
You should also be very careful in Tavush and Gegharkunik Provinces of Armenia. Borderline areas are frequently bombarded. This map of Armenia by the UK government shows which areas should be avoided.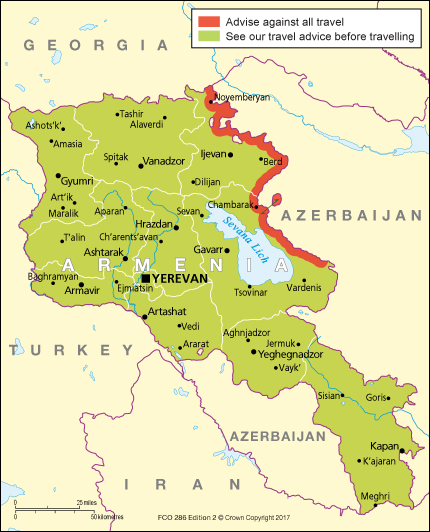 Armenia's borders with Turkey and Azerbaijan are closed and patrolled by armed troops. Traveling to these two countries by land was not possible as of late September 2019, and it will probably stay that way for a very long time. You can travel to Istanbul from Yerevan by air. As for Azerbaijan, you will have to travel there from another country.
Iran
Remember that Iran borders Armenia from the south. The U.S. government prohibits travel to Iran for U.S. government personnel. You might want to do the same if you are a non-official U.S. citizen, but consult the U.S. Embassy in Armenia or the DoD if you have plans to visit Iran.
Natural Disasters
Armenia is a seismically active zone prone to earthquakes and landslides. Although the last serious earthquake has occurred in 1988 (the Spitak earthquake), weaker earthquakes occasionally happen. Earthquake safety in Armenia is subpar at best due to the lack of education and poor building codes.
What To Do Before Traveling to Armenia
A fairly safe country, Armenia does require you to take some precautions.
Before planning any trips, make sure to consult your country's ministry of foreign affairs. They will likely have alerts and information on ongoing events in Armenia. For example, if you are American, check the Travel Advisory Level of Armenia and have a look at current alerts.
Keep in mind that the situation in any country may change rapidly, so stay up-to-date on the latest alerts of your ministry of foreign affairs.
Make sure to acquire travel and medical insurance to stay on the safer side while in Armenia. Your country's ministry of foreign affairs should be able to provide you with tips on what kind of insurance to get.
Give a good read to the travel advisory provided by your government. Aside from safety information, there are plenty of other things to know, like passport requirements, vaccinations, cash limits, etc.
Finally, find out information about your country's embassies in Armenia. If your country doesn't have an embassy in Armenia, you may want to avoid traveling to this country since assistance in emergencies may be very limited.